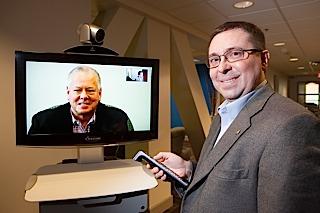 With the affordable care act and rising healthcare costs on everyone's minds, Business First was looking at ways companies are using Telemedicine and Telehealth solutions.
Veraview was selected as one of the local WNY companies that has been successful at launching Telemedicine solutions with our clients.
You can read the full article at Buffalo Business First.
"Veraview LLC sees the potential for a double-digit revenue increase in its telemedicine and telehealth business. The videoconferencing company, founded in 2000, has clients that use telemedicine and telehealth. According to company officials, those business units, which were about $6 million last year, could rise by 10 to 15 percent.
Telemedicine is when doctors use video conferencing equipment when a patient needs to see a specialist. In rural areas, as an example, this can be helpful as the patient and spouse can be with an urgent care doctor in the room who knows an injury requires surgery. The family and doctor can interact with a specialist miles away to share x-rays and other diagnostic information."