People often ask exactly what we did to make the Curtiss Hotel in Buffalo, NY, a "smart hotel". We provided the phone system for each guest room and office space within the hotel, along with wireless access points, digital signage and automated concierge service. We managed these hotel amenities along with Audio Visual, lighting, climate, and shading with a Crestron control system. The experience within the hospitality market is second to none for both the management of the hotel and the hotel's customers.
The below link is an article by Crestron about our work at the Curtiss.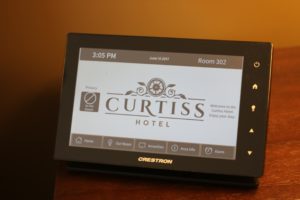 Looking for more information? Call our office for a private consultation to see how we can improve the way your organization communicates.