Veraview is happy to have been a part of the new Erie Community College (ECC) STEM Building. The structure, space allocation, and up-to-date infrastructure set this building apart from the rest of the campus, bringing science and biology to the forefront of the college's student demographics. But ECC brought the upgrade to a new level and that's where Veraview comes in.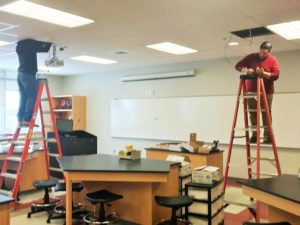 Although academic criterium is forever evolving and still extremely relevant in the workspace, it is also expensive and does not always leave students with hands-on, non-theoretical exposure. We help elevate a college's investment in the classroom by providing an environment with the best tools to bring that exposure to the classroom.
Dual monitors for classroom content sharing and video conferencing
Screen for content collaboration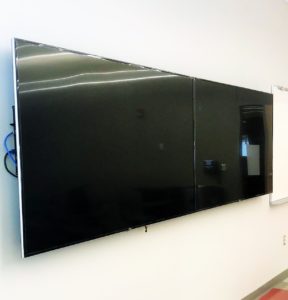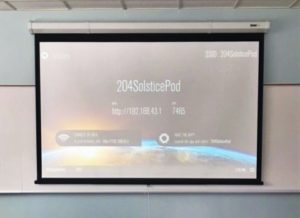 For ECC, Veraview installed distance learning tools, such as video cameras, projectors, and screens to many of the classrooms. You often hear of rooms having this technology, but what you don't hear about is what sets these tools apart. Here are just a few factors to consider: Classrooms typically have ambient light throughout the room and many rooms are too large to have a great video experience. Whether that be a presentation or a video conference. Choosing the right screen that absorbs the variable light fluctuations so that it is visible from any angle in the classroom, as well as having a projector bright enough to cast the image through the light is paramount. A student also needs to hear and be heard from anywhere in that room and a far-end participant needs to be engaging to all the students. Knowing what equipment works best in a specific environment is key to success.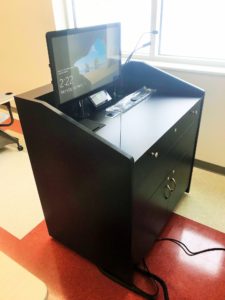 Of course, bringing technology into a room and not making it easy for an instructor to use simply doesn't work. It needs to be centrally managed in an environment that is conducive to a teaching environment; leaving the instructor to focus on the curriculum rather than the technology. Veraview integrated these tools into each room in a way that supports the specific classroom objective. The ECC Stem building is set up to continue to grow and build virtual resources well into the future. This is what sets a college apart, building student enrollment and creating an increased enrollment strategy regardless of the economy and local restriction. The world is open to the classroom. ECC opened the door with complimentary upgrades to make that happen and we are proud to have integrated the technology into the classroom.