Buffalo Manufacturing Works at the Workforce Training Center
Veraview, LLC has recently completed its work on two phases of construction at the Northland Corridor Redevelopment Project. A major component of the project is 683 Northland Avenue in Buffalo, NY, anchored by the Workforce Training Center and Buffalo Manufacturing Works. The Workforce Training center, completed in the summer of 2018, recently celebrated its first graduation. Buffalo Manufacturing Works moved into their new space in July of 2019. Pictured above is custom rigging of Clearone Beamforming Microphones in Buffalo Manufacturing Works' repurposed high bay.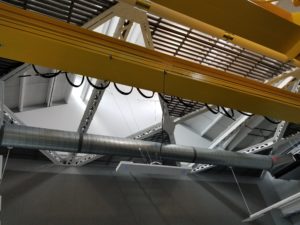 The Workforce Training Center features multiple classrooms outfitted with wireless collaboration devices from Mersive Technolgies, allowing teachers and students to collaborate on large flat panel displays from any laptop or smart phone. Wired connectivity is also available for Wolfvision document cameras, which are indispensable when showing small objects to large groups. A multipurpose room with sound reinforcement and a large format Da-Lite borderless projection screen. The main focal point of the facility is the large, open lobby with a Planar video wall flanked by two smaller displays for digital signage, presentations, and special events. All systems are controlled by intuitive Crestron touchscreens.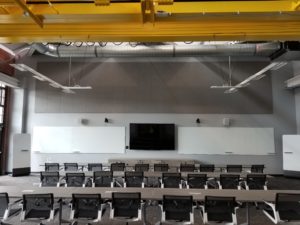 Buffalo Manufacturing Works has been rapidly expanding, and decided to move their existing conference room equipment to supplement additional spaces that were created. Multiple conference rooms were equipped with Vaddio cameras and Clearone audio processors to allow video collaboration via Microsoft Teams and web-based meeting tools used by their suppliers. The mix of new and old equipment posed no challenge to the Crestron control system in each room, which was programmed with a consistent user interface regardless of the underlying technology. Each conference room also features a wall-mounted Crestron scheduling panel outside the door, and two large venues were outfitted with custom-mounted Clearone Beamforming Microphone Arrays that complement the unique industrial décor.