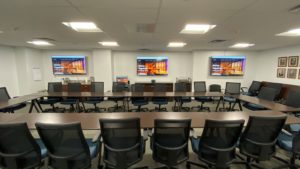 This was the first BMA CT we did. Looks great, works nicely. Big plus is they have a noisy area and it does a great job in taking that noise out.

Brian O'Leary – Account Executive
The Legal Aid Bureau of Buffalo has a large, uniquely-shaped meeting room, which they wanted to use for training, board meetings, presentations, and audio/video conferencing. Rather than requiring everyone to travel there, in person, to attend meetings, they wanted a conferencing system that allowed everyone to "be" there. Other than a monitor and a computer, the room had no tech. So, enabling these capabilities was a big step. A relatively low ceiling and irregular shape of the walls presented some additional challenges. Further complicating the installation was the existing audio characteristics of the room, which was a noisy area with additional sound and vibration caused by the HVAC system.
This was Veraview's first installation of ClearOne's patented BMA CT Beamforming Mic Array Ceiling Tile. The BMA CT proved to be the perfect solution for the room. It performed well in overcoming the room's acoustical challenges and was esthetically pleasing. Its form factor was ideal, given the room's low ceiling. Meeting participants can be clearly heard, even if moving freely about the room, and can sit/stand in any location without compromising audio quality.
Using the BMA CT and the CONVERGE® Pro 2 DSP mixer, the team at Versaview was able was able to mitigate the issues caused by the noisy HVAC system and provide crystal clear audio quality, even for conferencing sessions with 20-30 participants in the room.