While users have become comfortable and proficient using Zoom on their personal devices (computers, laptops, phones, etc.), they are finding that the experience in a room setting is not as good or easy to manage. This gets more acute with larger and more complex rooms.
Managing the conference, participants, sharing and other conference features while simultaneously managing room resources and local participants is a daunting task – much harder than managing yourself on a laptop.
This issue is normal and expected. To solve these issues and provide for even greater ease-of-use, Zoom has a solution that is designed for use in rooms…
Zoom Rooms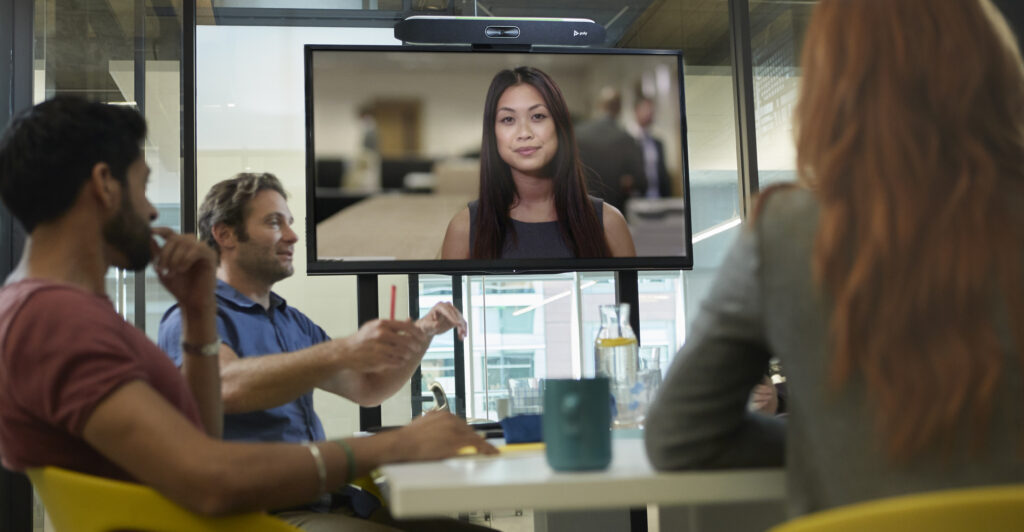 The basic concept of a Zoom Room is that it separates the audio, video, and conference control from the presenter(s) and participants. Your devices or a room PC are not used to create the call; so you use them as you would for a local presentation. If it is a video only meeting (no content), you do not need to use your device or any computer at all.
No:
Managing different app and content windows on the computer – Am I sharing my app? Am I sharing my desktop? What do you see now?
Selecting and managing audio and video devices – Can you hear me now? Am I muted? Where is the audio coming from?
The computer is updating; so we need to wait before we can start meeting.
What the heck did the last user do to this room???
Looks like my device needs to install/update drivers for the camera/mics in the room.
Eliminating these common problems leads to higher quality, more productive meetings.
Features and Benefits
Ease-of-use with one touch join and complete meeting control from an 8″ touch panel or join any Zoom Room into your meeting from your personal device.
Provides Zoom based wireless content sharing – even when not in a meeting,
Superior audio and video quality with 4k auto-tracking camera
Models to support any size meeting or training room
Use with other platforms – there is a USB port on the device enabling you to use it as a camera/mic/speaker with any conference platform on your personal device.
Works with existing room equipment – HDMI input enables room PC, document camera, wireless sharing devices to present content in meetings.
Supports dual displays (some models)
Easy to deploy and manage – You use the Zoom web portal to manage, monitor, upgrade, and provision the Poly appliance .
Many more that we can demonstrate for you!
Contact us to schedule a demonstration.
How does it work?
We use a Poly conferencing appliance that is running a Zoom application. It can also run other platforms' applications – think investment protection, if you elect to change your conferencing platform . This app is written by and directly supported by Zoom, so it supports full Zoom functionality.