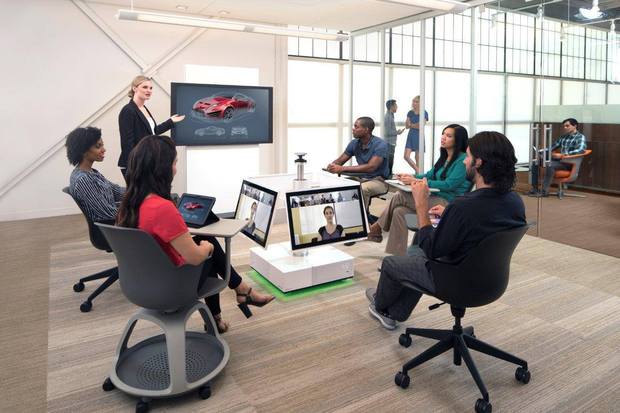 You've seen the invitations and we hope you've already registered but just in case you haven't, we'll give you one last chance. Veraview and Millington Lockwood have partnered to host the biggest open house of the spring, focused on "The Collaborative Work Space". Our partnership couldn't be more complimentary, Veraview specializes in collaborative technology and a large part of Millington Lockwood's business is providing furniture solutions to firms that accommodate and maximize their use of technology. Our goal throughout the event is to highlight this relationship between the space in which we work and the technology we use. Seminars given by industry experts will provide insight into growing trends and innovative technology while Millington Lockwood's furniture idea center will set the backdrop for ad-hoc demonstrations and opportunities for hands-on engagement. Our lineup of speakers include Polycom, Mersive, Extron, and AMX.
Polycom will be in attendance in more ways than one. Representatives will be on site to answer questions about the RealPresence Centro, RealPresence Debut and RealPresence Trio. Polycom will also take part in the speaker series during which time we will dial into the Polycom Experience Center and demonstrate a number of new technologies including NoiseBlock, Acoustic Fence, RealConnect with a Skype For Business video call and the power of a Centro to Centro call. The products available for demonstration on sight include Polycom's latest innovations designed to enhance collaboration in every space across your organization. The RealPresence Centro is the future of communication in the open workspace environment; four touch enabled monitors make it easy for anyone to connect and the 360 degree camera means no one has a bad seat. The RealPresence Debut is the ultimate video conferencing codec for huddle rooms. The Debut is an all in one video solution that provides a professional experience at a friendly price point. Lastly, the RealPresence Trio is a revolutionary conference phone that does so much more than audio conferencing. The Trio is truly a smart conferencing hub for every conference room, the Trio enables audio conferencing, video conferencing and wireless content sharing. The best part of the Trio is native integration with Skype for Business, making your workflow consistent throughout the organization by enabling click-to-join meetings and an intuitive user interface. In addition to the latest conferencing technology from Polycom we will have a handful of their newest desk phones on site and yes, they also integrate natively with Skype for Business.
If you haven't heard of Mersive yet, you won't want to miss their presentation. CTO Christopher Jaymes will be joining us via video to give a talk on the emerging BYOD collaborative technology market. I'm sure at some point you've experienced the hassle of connecting a laptop or tablet in a conference room, sometimes you simply can't do it. With Solstice software/hardware you can, no matter what physical ports are on your device. As room technology ages and new devices come to market the need for wireless solutions increases tremendously. Not only will Mersive's CTO be a part of the speaker series, we will also have a Mersive, Solstice Pod on site to provide hands-on demonstrations. We may even have some BYOD related contests.
Extron Electronics is a major player in the Pro AV Industry providing innovative solutions for switching and scaling, video matrixes, control systems and recording/streaming. The topic of Extron's seminar will be recording and streaming in any environment. If you work in education you may be entirely familiar with recording and streaming as the popularity of online courses has continued to rise. Recording and streaming isn't just for education and we are seeing the technology used in the corporate world more than ever before. Corporate entities understand the highest cost of employee turnover is the onboarding and training process. One way to combat this expense is to transition the process of in person training to training that is based on recorded material, accessible at any time by new employees. An alternative to recorded content is training that is live streamed to any number of new employees without the need for each employee to travel to a central location. Another reason for adopting recording and streaming technology is to transfer knowledge from the aging/retiring workforce to the newly minted college graduates of the younger generation, especially as the younger generation tends to learn well via video. Our Extron representative Jay Kelleher will speak more to this topic and will have additional equipment to discuss throughout the event.
The final installment in our speaker series comes from AMX's SchoolView suite of solutions for K-12 campuses. The beauty of the SchoolView solution is that it can be deployed as needed. The entire suite can be broken down into individual pieces depending on the needs of a campus. If your school only needs to upgrade its Bell & PA system, no problem. If you decide to add more functionality later, no problem. The general idea behind SchoolView is centralized administration and ease of use. AMX wants one person to be able to manage all facets of the schools technology without having to learn and maintain several separate systems. The most compelling aspect of the SchoolView suite is the ResQ classroom system. In a nutshell, ResQ provides teacher security through a silent alarm function and it also reduces strain on instructor's voices by providing sound reinforcement in the classroom. There are several other systems under SchoolView's umbrella that will be discussed on the 28th. Even if you are not an educator this is not a presentation you want to miss as you probably have kids in school or know people who work in education.
As I've said in the invitations, the speaker series is a large part of the event but it is most certainly not the only part. In addition to our speaker series, a representative from Eiki will be displaying two high end projectors on a new Paralax projector screen from our partners at Da-Lite. Throughout the event Veraview and MLBI employees will be available to answer questions, conduct demonstrations and introduce you to present vendors.
Veraview and Millington Lockwood have teamed up for a reason, our businesses complement each other; through partnership we can provide maximum benefit to our customers and this event is designed to show you how. We will have refreshments and hors d'oeuvres throughout the day and an open beer and wine bar from 4:00-6:00pm. Grab a coworker and stop by, you can come for one speaker or stay for all four. We look forward to seeing you on the 28th!