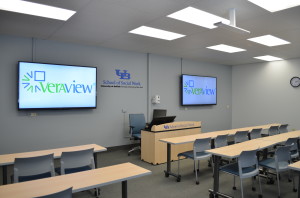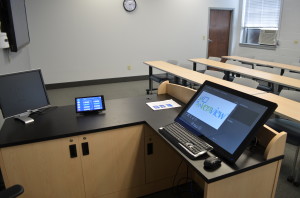 The UB School of Social Work introduced a new program for their students called the "Online Part-time MSW Program" which enables students to complete their coursework on a more flexible timeline than in a traditional, classroom-based course of study. In order to implement such a program, The UB School of Social Work came to us at Veraview to design a classroom with all the necessary technology. They needed a way to capture and record class lectures, displays for presentation materials and a user-friendly interface to make everything work together.
Members of the Veraview team visited the classrooms at UB's Parker hall in order to ascertain the best possible solution given UB's budget. In the end, Veraview installed two 80" Sharp displays, eliminating the need for projectors and screens. We also installed two cameras and a ceiling microphone to accurately capture the lecturer from any point in the room. We were able to integrate some existing technology (a standalone Polycom capture station) into the room, enabling the lectures to be captured and shared (recorded lecture and live stream) as part of the distance learning program. Finally, we installed a 27" touch monitor for control of all classroom technology as well as annotation of presentation material. The touchscreen resides on a custom desk that houses all the AV technology. The teacher never has to turn their back on the students during lecture as the confidence monitor located in the back of the room displays the presentation material and subsequent annotations.
Without these kinds of technologies, programs such as the "Online Part-time MSW Program" would not be possible. Knowing that your work expands the reach of education and has a real impact on the lives of students is incredibly rewarding. In talking with staff at the UB School of Social Work we learned just how impressed both students and faculty were with the room. Students, "really like that they can watch lectures from home and review them at any time." Faculty appreciate, "being able to show different content on different screens at the same time" as well as, "how easy it is to control the entire system with the touchscreen." For the first time, the program (generally enrolls 25 students in the fall semester) has a waiting list. We can't be certain, but we certainly like to think our classroom technology had something to do with it.
Students, "really like that they can watch lectures from home and review them at any time." Faculty appreciates, "how easy it is to control the entire system with the touchscreen."